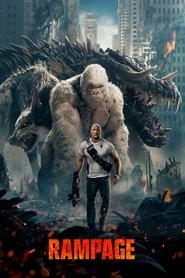 Rampage
Big meets bigger
Apr 12, 2018
107 Min.
Synopsis
Rampage is a 2018 American science fiction monster film directed by Brad Peyton, and loosely based on the video game series of the same name by Midway Games. The film stars Dwayne Johnson, Naomie Harris, Malin Åkerman, Jake Lacy, Joe Manganiello, and Jeffrey Dean Morgan.
Athena-1, a space station owned by gene manipulation company Energyne, is destroyed after a laboratory ratmutates and wreaks havoc. Dr. Kerry Atkins, the lone surviving crew member, is ordered by CEO Claire Wyden to retrieve research canisters containing a pathogen. Atkins is able to flee in the escape pod when the station implodes, but due to damage from the rat it disintegrates upon re-entry, killing her. The falling pieces leave a trail of debris across the United States, including the Everglades in Florida, where a canister is consumed by an American crocodile, and a forest in Wyoming, where a gray wolf is exposed to the pathogen.
Primatologist Davis Okoye, a former US Army Special Forces soldier and member of an anti-poaching unit, works at the San Diego Wildlife Sanctuary. He has befriended a rare albino gorilla named George, having saved him from poachers, and communicates with George using sign language and hand gestures. At night, one of the canisters crash-lands in George's habitat; George is exposed to the pathogen.
George grows considerably larger and more aggressive over time. Davis is contacted by Dr. Kate Caldwell, a genetic engineer, who explains that the pathogen was developed by Energyne to rewrite genes on a massive scale. She had hoped to advance CRISPR research as a potential cure for diseases but discovered Energyne's plans to use it as a biological weapon. The company fired her and got her sent to prison for attempting to expose them. George escapes from captivity and goes on a rampage at the preserve. Davis calms him down, but George is captured by a government team led by Agent Harvey Russell and put on an airplane. Meanwhile, Claire and her brother, Brett, send a squad of mercenaries to capture the mutated wolf, Ralph, but they are all killed.
TMDb Rating6.2 votes